Description
Ingredients
Formulation
Combining a bi-phase formula and carefully chosen ingredients, the serum acts immediately upon application to your skin, boosting cellular activity to regenerate the skin.

Apply in the morning to wake up the skin and nourish and soften with its velvet-smooth finish. Boost skin actions by layering with our edulis Day Cream.
Apply in the evening to soothe and relax, preparing skin to receive edulis Night Cream, optimizing its nourishing and soothing properties while you rest.

edulis oyster extract with smoothing and brightening properties.
Soothing frankincense resin.
Nourishing and softening desert date palm oil.

Yuka score: 100 / 100
The product has a lipophilic phase and a hydrophilic phase. Active ingredients are distributed between the two phases and are immediately bio-available on application.
AFFICHER LES AVIS
Sérum peau neuve !
Ce sérum est un bonheur à appliquer et lisse immédiatement les traits. Par ailleurs, son odeur "grand air" et le petit côté satiné qu'il offre après l'application me l'ont fait adopter tous les matins pour ma routine beauté. J'ai hâte de découvrir le reste de la gamme !
Effet lissant immédiat!
Après une légère hésitation sur l'aspect liquide du sérum, j'ai finalement été conquise. Le sérum s'applique très facilement et pénètre bien dans la peau qu'il rend tout de suite lisse. Son léger parfum est aussi très agréable.
Bonheur
Une découverte pour moi qui utilise rarement des sérums.
Une sensation de légèreté et fraîcheur. Un parfum délicat. Suivi de ma crème de nuit edulis, je retrouve une peau lisse, hydratée et rayonnante. Made in France, breveté au Cap Ferret, avec des extraits d'huîtres et des ingrédients naturels. Un bonheur absolu !
Ce sérum d'Edulis est une capsule d'océan. J'applique quelques gouttes le matin, ma peau l'absorbe parfaitement. C'est une base qui nourrit la peau, lisse les traits et illumine le teint avec un vrai effet défatiguant. C'est devenu mon rituel reminéralisant dont je ne vais plus me passer cet hiver!
NOS RECOMMANDATIONS D'UTILISATION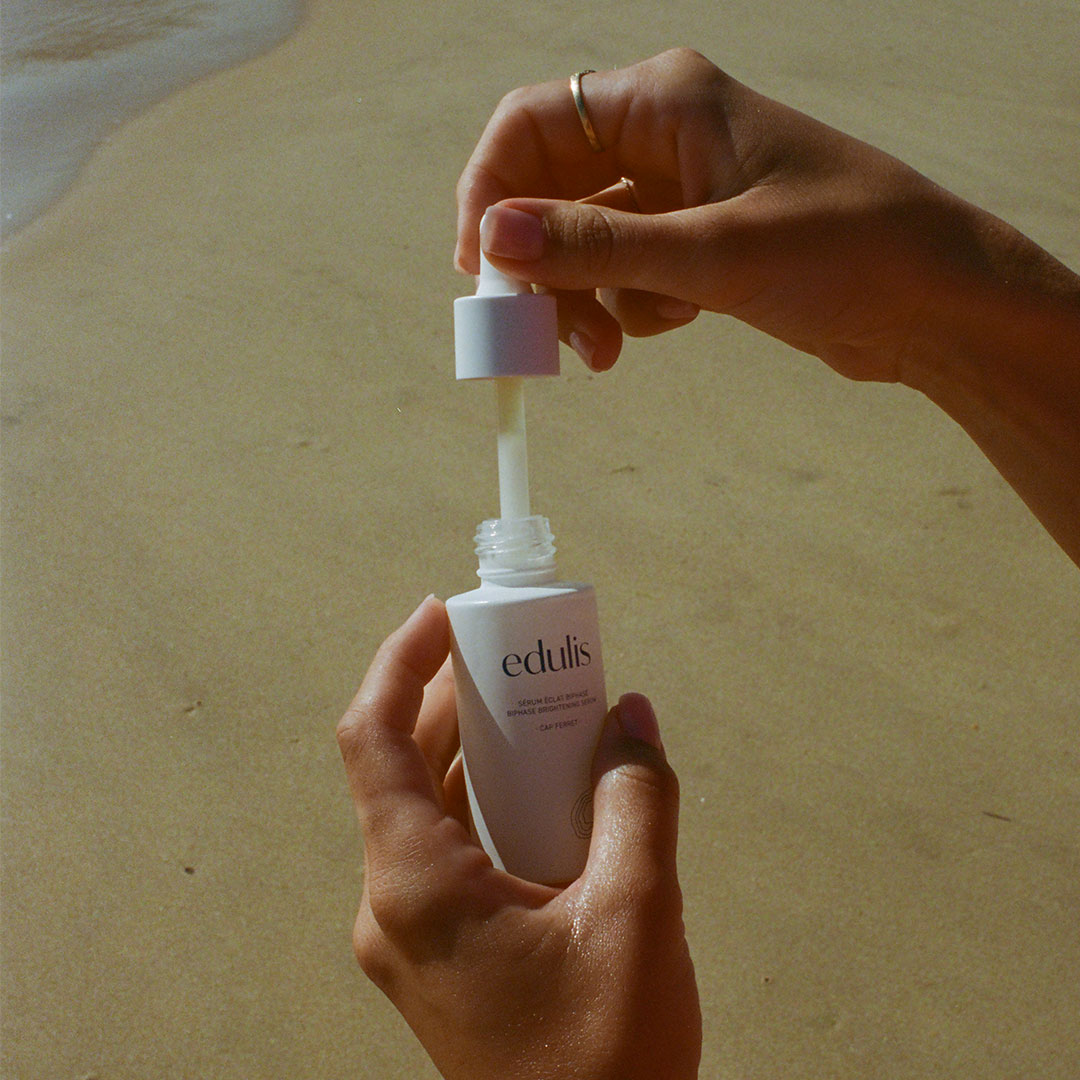 Effect
Stimulating, improves cell renewal to increase radiance.
Olfactory profile
Floral, marine, iodized, woody mineral.
Usage
Shake the bottle, dispense a few drops and apply in thin layers.
Results
100% of patients tested under medical supervision observed their skin to be more radiant and increasingly hydrated after use. A measured improvement in skin radiance for 60% of subjects.