The kit: the edulis routine
Description
Ingredients
Formulation
We have created three natural-based products to be used daily. Each has a light, non-greasy texture, making your beauty routine a moment to enjoy, whilst protecting and nourishing your skin, strengthening it against external aggressions, and enveloping it in a soft, comforting, aquatic fragrance.
Your skincare routine becomes an incomparable sensory experience.
Each person's skin is unique and reacts differently at different times of the day.

You will feel the effects of edulis upon application. edulis adapts not only to your skin, but to your state of mind and whether you are looking for a dynamizing, soothing or hydrating effect.
That's why, even though each cream is effective when used separately, we recommend you layer them with the serum to best meet your needs at any one time.
Biphase serum
edulis oyster extract with smoothing and brightening properties.

Soothing frankincense resin.

Nourishing and softening desert date palm oil.
Day cream
edulis oyster extract to plump and nourish.

Brittany seaweed extract, for an anti-oxidant and collagen-enhancing effect.

Desert date palm oil to soften.

Kokum butter to nourish.
Night cream
Regenerating edulis oyster extract to soothe and lift.

Brittany seaweed extract, to maintain the extracellular matrix.

Moringa oil emollient.

Borojo juice and extract of fermented grape, for its antioxidant properties.
The edulis range consists of three complementary products, both in terms of formulation and ingredients.
Combining a bi-phase formula and carefully chosen ingredients, the serum acts immediately upon application to your skin, boosting cellular activity.
The formula of the day cream is a cold-stabilized emulsion optimized by the use of natural clay, created by simple mechanical agitation, in an approach that is more ecologically mindful in terms of both time and energy consumption.
A light, silky feel upon application.
Encapsulation of principal natural actives, to aid release throughout the day.
Our night cream is a cold-stabilized emulsion with a mixture of optimized natural bentonite and montmorillonite clays. It is created by simple mechanical agitation, in an approach that is more ecologically mindful in terms of both time and energy consumption.
A formulation that combines the consistency expected of a nourishing night cream with a silky, lightweight feel and maximum penetration.
Encapsulation of principal natural actives to aid release throughout the night for optimal and progressive skin regeneration.
SHOW THE REVIEWS
Commande/expédition
Livraison rapide et assurée le jour et heure prévues bravo
kit complet
je suis satisfaite du kit complet, une belle découverte, les produits pénètrent facilement et ont une odeur agréable. Bravo à l'équipe pour les produits naturels.je recommanderai à mes proches .
Edulis pour tous !
J'ai reçu le kid comme cadeau d'anniversaire et je suis plus que ravi ! Ces produits sont adaptés à tous types de peaux, ayant la peau noire je peux le confirmer et valide à 100% ce kit ! Bravo Edulis !
Belle qualité de produits
J'utilise le coffret (sérum, crème de jour et crème de nuit) depuis quelques mois et j'en suis très satisfaite. Globalement, les 3 produits ont une texture et odeur agréable, et les résultats sont visibles sur la peau au bout de quelques applications. Pour ma part, coup de coeur pour le sérum qui donne un bel éclat a ma peau ! Je recommande ce coffret qui est d'une belle qualité !
Un super coffret que je recommande fortement !
J'ai été totalement séduite par le fait que ce soit des produits naturels. J'utilise la gamme Edulis depuis maintenant plus d'un mois et je sens une vraie différence sur ma peau. J'adore le sérum, il suffit seulement de quelques gouttes pour une grande efficacité avant la crème de jour qui est très agréable, hydrate sans graisser la peau : c'est pour moi une parfaite base pour mon maquillage. J'ai eu un coup de coeur pour la crème de nuit très riche qui hydrate soigneusement ma peau. Les senteurs sont légères, ma peau est repulpée et les rides estompée. J'adore !
INFORMATION & RECOMMENDATIONS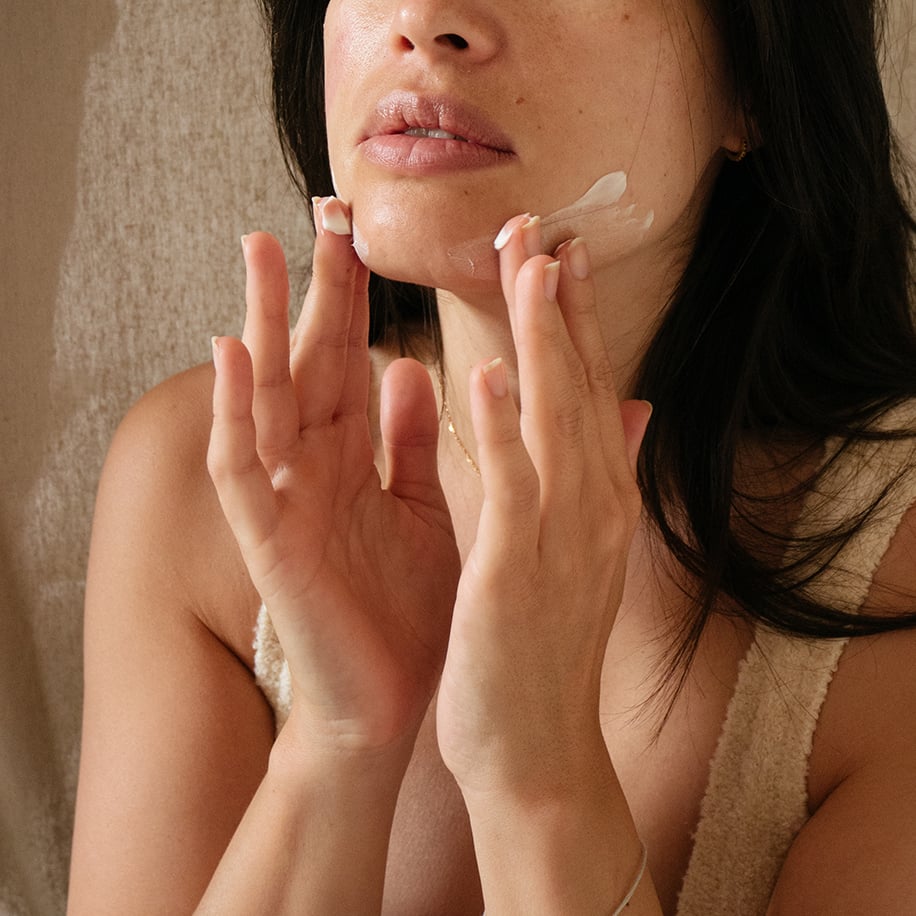 1 2 3 Routine
Applying the day or night cream after the serum reinforces its action, thanks to formulations based on modified clay, designed to act as a second protective skin. Our recommendation is to follow the three steps of the routine in order: 1,2,3.
Morning
In the morning, after cleansing your face and hands with a foaming gel or a non-aggressive soap to remove the night's impurities, dry your face with a wipe or a towel.
Use the serum first (1). Shake the bottle well to mix the 2 phases then put a few drops in the palm of your hand and apply them to your face by massaging gently.

After the serum, apply the day cream (2).
Tip: you can mix the serum and the day cream in the palm of your hand with your index finger, with clean hands. The serum will then be emulsified with the day cream and you can apply the mixture to your face, avoiding contact with the eye contour area.
We always recommend using an SPF cream.
You can then use your foundation (or mineral powder), on skin with has been well-prepared to receive it.
Evening
In the evening, after cleansing or removing makeup from your skin with your cleansing lotion, first use the serum (1). Shake the bottle well to mix the 2 phases then put a few drops in the palm of your hand and apply them to your face by massaging gently.
Then apply the night cream (3) and massage into your face for a reasonable period of time to stimulate the skin's muscles and circulation. When adding the serum you prolong the beneficial effect of the night cream and provide a soothing sensation.
Make your skincare routine a moment of calm and pleasure by enjoying the feel of the product on your face, and the soft and slightly woody smell of the cream. It will leave your skin nourished and moisturized without feeling greasy.
Wash your hands well before use, and close your jar carefully to avoid contamination or pollution.