Night cream: regenerating
Description
Ingredients
Formulation
Through the unique action of its active ingredients, optimized by clay for bioavailability and protection, our night cream is designed to regenerate the epidermis while you sleep.
It also soothes and rebalances the skin, enabling it to effectively combat aging.

Regenerating oyster extract to soothe and lift.
Brittany seaweed extract, to maintain the extracellular matrix.
Emollient Moringa oil.
Borojo juice and extract of fermented grape, for its antioxidant properties.
Yuka score: 93 / 100
A cold-stabilized emulsion with a mixture of optimized natural bentonite and montmorillonite clays. It is created by simple mechanical agitation, in an approach that is more ecologically mindful in terms of both time and energy consumption.
A formulation that combines the consistency expected of a nourishing night cream with a silky, lightweight feel and maximum penetration.
Encapsulation of principal natural actives to aid release throughout the night for optimal and progressive skin regeneration.
AFFICHER LES AVIS
Passion Edulis 🦪
Toute la gamme est incroyable. Crème riche mais pas lourde, sérum rafraîchissant avec une texture très agréable. Les crèmes ont beaucoup plu à ma mère aussi (elle a glissé discrètement le sérum dans son sac - oups il est tombé tout seul) ! Je recommande 💯 fois ! Merci Edulis
Excellent
Texture non grasse, très agréable et nourrissante, pour une peau apaisée et hydratée au réveil. Je recommande !
Crème revigorante!
De retour de la montagne, ma peau est déshydratée et ridée par le soleil. Dès la première nuit, ma peau est plus lisse et hydratée, que du bonheur.
La crème de nuit est riche, très hydratante, mais elle pénètre très facilement et son parfum léger prolonge les vacances. Merci Edulis!
Crème de nuit très confortable
J'utilise cette crème depuis 15 jours et j'en suis ravie. La texture est riche et bien adaptée à ma peau sensible. Je l'utilise avec un sérum et le résultat est très convaincant. Ma peau est souple et n'a plus de tiraillements. L'odeur est agréable.
Une très bonne crème de nuit
Une crème de nuit parfaite, la texture est légère mais on sent bien l'effet "masque" d'hydratation. L'odeur est très agréable et reste légère. Dès le deuxième jour d'utilisation on se rend compte au matin que les pores du visage sont affinés et la peau bien rebondie ! Promesses tenues, foncez !
NOS RECOMMANDATIONS D'UTILISATION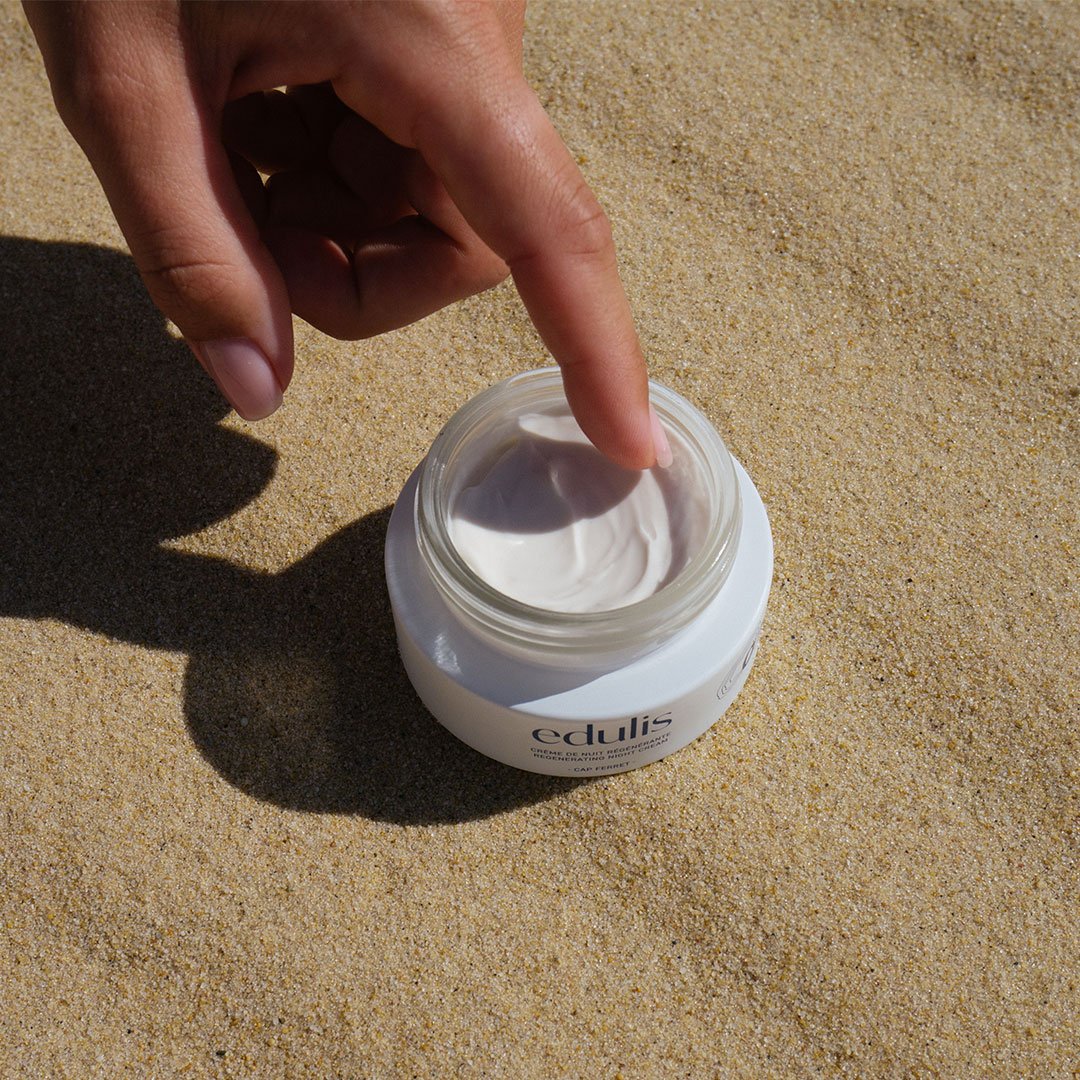 Texture
Comfortable emulsion for all skin types.
Effect
Penetrates quickly, re-contours the face and returns volume to the skin.
Olfactory profile
Floral, marine, iodized, woody mineral.
Usage
Apply on face and smooth over the surface with fingers, massaging from the center outwards. Take the time to appreciate this sensory experience and the softness of the product on your skin.
Results
85% of women tested observed a visible reduction in wrinkles and fine lines and 95% felt their skin was more moisturized after just 20 days of use.
Measured reduction in wrinkle depth of 11% after 20 days of use for 60% of subjects.
Any questions? Contact us